3Pointz, who lives in Amsterdam, the Netherlands, runs the music label "ANARKIC BEATS RECS" and not only releases his own works as a beat maker, but also actively collaborates with other labels and artists. and the Amsterdam music scene.
Mental Position – First, please give a brief introduction about yourself.
3Pointz – Hi. I'm Nelson aka 3Pointz, drummer, and music producer from Brazil based in Amsterdam (the Netherland). I'm a music producer for 20 years now. But my project "3Pointz" has only 2 years. I was doing other musical projects before this one. Hip Hop was always a passion of mine since the 90's when I first discovered Beastie Boys, DJ Krush and Rage Against the Machine (especially vocalist Zack). I always played basketball. So Hip Hop culture was in my veins I think.
MP – Is the label "Anarkick Beat Records" organized by you, 3Pointz? I guess the sound of the label is mainly BoomBap and Lo-fi. Could you tell us about the label's character and theme?
3Pointz – Yes it is organized by me! The label is dedicated to Hip Hop with funky Jazz style, also Lo-fi. We embrace the 90's Hip Hop culture and funky sound origins of Hip Hop influences back in the 70's.
MP – The label has Japanese beat makers such as Bugseed and Pigeondust. How did you find those artists?
3Pointz – I do a lot of musical research. I've always been interested in Japan because of video games since my childhood. So I was looking for Japanese beatmakers. Then I found them as some of my favorites from Japan and decided to contact them. They were super nice. We started to work toghter as they liked also my music "3Pointz" and the label style.
MP – The compilation album "Elements" includes also Japanese beatmaker Beatgist, and other musicians from various countries, such as owae.ga from Switzerland and Mike Flips from the UK. Did you connect them through the internet?
3Pointz – Yes. Like I said, I have a lot of network and found them doing my researches about underground Hip Hop on bandcamp.
MP – The cover design of Anarkick label releases looks good with the MPC style design, and letters "ANARKICK BEAT RECS" fits on the pads. Is this designed by you?
3Pointz – I had the idea of the logo based on the iconic MPC for creating beats . Then it turned out pretty good. People love it. I'm super happy with our brand!
MP – In Japan, We can't get much information about scenes of the Netherlands. Is there a beatmaker scene playing with samplers like SP-404 or AKAI MPC? It seems to have calmed down a bit more recently than before, but are there any beatmakers or events also in the Netherlands that follow the beat music trend, such as Low End Theory?
3Pointz – Yes. There's a nice scene here. And we have beatmakers and MCs like Propo 88, Ell matic and Blabbermouf.
MP – Let me ask you about the keyword "Lo-fi". This is a theme that I have been able to sort out, since I have talked about it all in my previous interview with FK and Marcus D. What do you think about the recent music trend / genre called "Lo-fi" or "Lo-fi Hip Hop"? I guess you know 90's Hip Hop well like Anarkick sound, so I thought you might feel weird with the term "Lo-fi" or "Lo-fi Hip Hop".
3Pointz – I like Lo-fi. I'm open for musical evolution of styles as long as people make music with their heart. It seems that Lo-fi got a great audience these days. So that's good for the beat culture in general.
MP – In Europe, the atmosphere of the COVID19 disaster has become less and less common (in Japan, people still wear mask), but did the COVID19 disaster have any influence on your own musical activities? I think that many musicians who were restricted in their activities and who were able to quickly shift to online activities were able to use the Corona disaster as a step toward success.
3Pointz – Yes. COVID19 had a huge impact on me as well. I started 3Pointz to give me a fresh will to make music again, and to release music on vinyl and cassettes for collectors since shows were not possible at the time. It turned out a new inspiration in my life as an artist. I guess I transformed a hard situation into a good one. Resilience is a key in life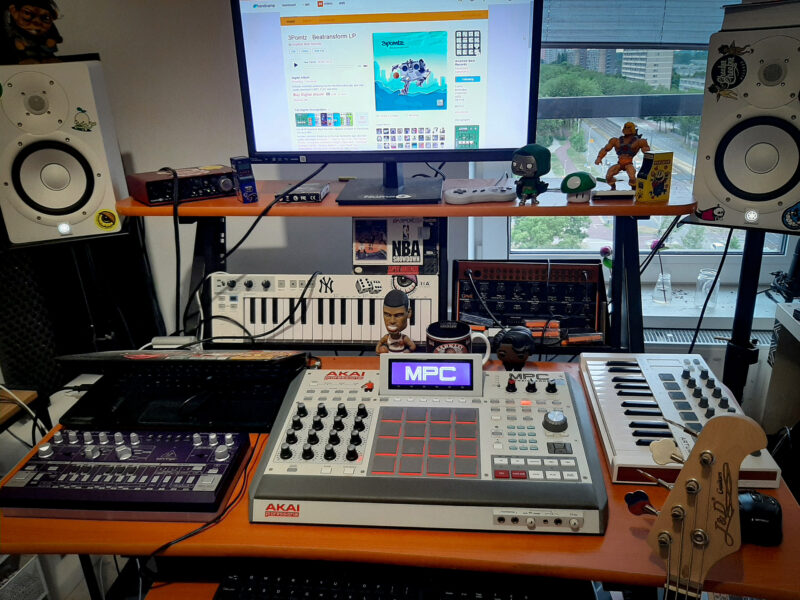 MP – Please tell us about your track-making process. The tracks on the "Beatransform LP" album basically have a 90's beat and sampling taste, but compared to the other tracks on the label, the lo-fi feel is not as intense, and the beats are solid and bouncy, with a Jazz-like feel to them. Looking at your Instagram photos, it seems that you use an AKAI MPD226 and Renaissance. What kind of production equipment/software do you use for your tracks?
3Pointz – I use various things to make music. I sample vinyls and play also MIDI equipments to create bass lines or synths. But basically I use the MPCs with Cubase. It's my favorite DAW to create arranges. I like to make not just a generic beat, but a more dynamic type of beats that I would like to listen myself. I make the music I would like to listen to. I'm not worried about what people will think about. I do it how I feel using my musical influences. I don't make music to be famous. I do music because my spirit is happy when I make music. It's like my Food.
MP – And also, the title "drummer" is listed on your Instagram profile. Do you play drum for your beatmaking?
3Pointz – Yes, I do that too sometimes besides using the MPCs.
MP – I saw the post about partnership with the UK label AE Productions. I actually didn't know much about this label, but cool artists are listed in the lineup, such as Paul Nice and Oxygen. Will you release new tracks from the label?
3Pointz – We are making a 7 inch vinyl this year. It's almost done and will be a dope one. And I plan to keep releasing with the Bristol label for years to come.
MP – And you also posted that you will release music from bot'fess RECORDS in Paris. What kind of tunes will be released from this label? It is also difficult to know the French scene from Japan. I just know few Lo-fi / BoomBap artists such as Kahlex.
3Pointz – I will release with bot'fess from Paris. I love French Hip hop MC style. Music of 3Pointz will be released form the label. It sounds like funked Hip Hop with Jazzy influences. A nice single is coming this summer. Please stay tuned.
MP – Are there any artists that you or your label would like to collaborate with in the future?
3Pointz – Zack de la rocha from Rage Against the Machine, and Beastie Boys. I would also love to remix DJ Krush and having him release for our label.
MP – Please give a message for the readers of this site and music fans.
3Pointz – I just want everyone to believe in themselves to follow their dreams. Our world is lost in capitalism slavery. Money is not everything. Happiness is the most important thing in life. Search for your happiness, and enjoy life with your loved ones. Our time in this planet is not infinite. Don't live for a system that really don't care about you, but only your working force. Have a question about authority, and rebel! We can make this world a better place for everyone. Music saves the day! Take care. We are all one!
PROFILE
3pointz is an Amsterdam-based beatmaker and label owner. Based on the Hip Hop culture influenced by the 90's, he collaborates with beat makers and labels around the world and releases works in addition to his own works.