In Lo-fi Hip Hop and Boom Bap music, Jazz music is indispensable as sampling elements. In this interview, we focus on "Jazz" and feature Hiroko Otsuka, who is well known in the Jazz scene as a record collector and DJ.
Her past mix CDs included not only "Jazz" music but music by artists such as J Dilla, DJ Shadow, Galliano and Theo Parrish. She brings a sense of style to her DJing with a wide selection of music while keeping a consistent theme of Jazz. She has been invited to music events all over the world including Blue Note, and is active in famous Jazz cafes and prestigious live houses because of her musical sense and deep knowledge. I asked her about her DJ style and passion for music.
MP – It's a trivial question, but how did you get started DJing? In an interview article, you mentioned that you just wanted to walk around with a big 12-inch bag in the city. Did you listen to Jazz before that?
HO – That's exactly why I started DJing (laughs). There is often talk about Jazz, "because my dad loved records," but in my case, that wasn't the case at all. It was the furthest genre from me. Even when I first started buying records, I was afraid to go near the Jazz shelves.
I've been buying records since I was in high school. At first, I went to the local record store. Then I started listening to Punk, so I went to Punk and Rock record stores, and later I became interested in Hip Hop as well.
MP – By the way, what was the first record you bought?
HO – It was Earth Wind & Fire. I didn't know even the artist or the song, and it was reasonably priced at about 800 yen, so I bought it…(laughs)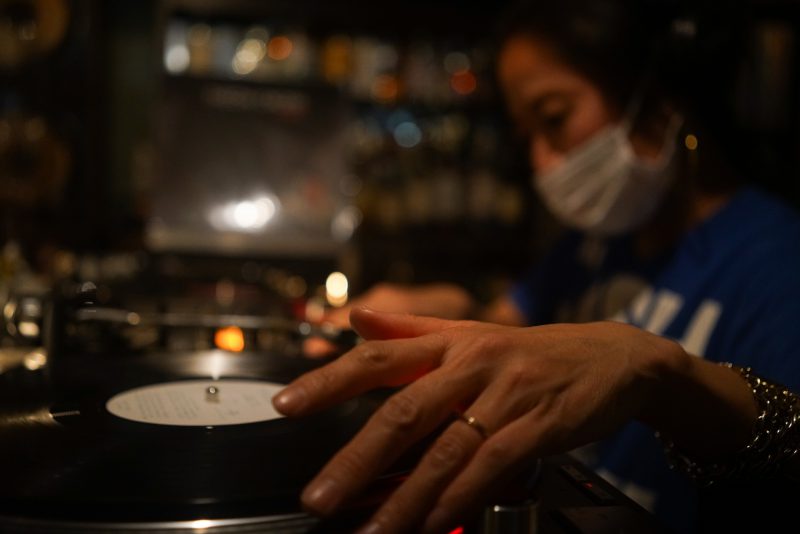 MP – And then you started buying Hip Hop?
HO – Before Hip Hop, I listened to Soul a lot. I tried listening to Hip Hop, but I started from hardcore west side gangsta Hip Hop. I thought it wasn't for me, so I stopped listening to Hip Hop (laughs).
At that time, I was obsessed with British culture, so I was more interested in Ska, Punk, and the fashion around it. When I was a high school student addicted to Punk, I played at Heavy Sick Zero in Hatagaya (Tokyo), which was my DJ debut.
However, even if I said "I was listening to Punk", I wasn't familiar with the song, and I chose the song because "fashionable people are listening to it." It was a time when I often went to the club event "London night" (*) at Milos Garage (which used to be in Shinjuku Tokyo) (laughs).
(* Legendary Punk club event in Tokyo.)
Later, when I was listening to Fumiya Fujii's (*) radio program, I heard Marvin Gaye's song and became aware of the beauty of the music itself. In the same vein, I started listening to a Hip Hop show titled "Da Cypher" on (Japanese radio channel) J-wave and checking the playlist posted at Manhattan Records (Tokyo) the day after it aired. I also started checking out Hip Hop magazines like Blast and Front (laughs). That's how I started listening to black music, and then became interested in the genre called Free Soul.
(* Japanese famous pop musician/artist)
MP – Were you already playing as a DJ at that time?
HO – I was listening to a lot of music and buying records, but I didn't have a strong desire to be a DJ. I was hanging out in night clubs more often than DJing.
Then, I started playing at fai aoyama (Tokyo), and my Jazz Funk play caught the ears of many people, and I could have more opportunities to DJ regularly.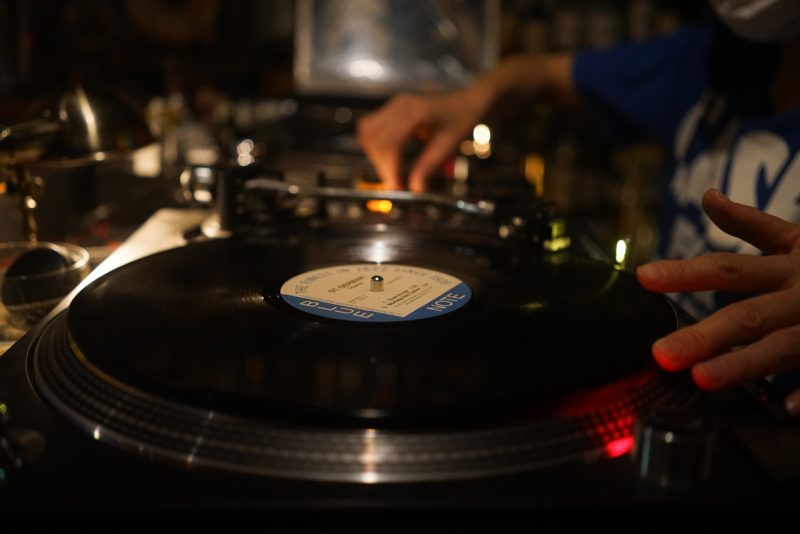 MP – Then started to play Jazz?
HO – I played Jazz Funk, but I didn't buy any Jazz records. There was a lot of talk about sampling of Hip Hop music, but I didn't really follow it. I just checked it in music magazines.
I started out listening to Jazz music on unusual labels like Strata-East, and I listened to Jazz from Prestige label as if it were funk. At that time, I didn't listen to much straight Jazz, and all hard bop music sounded the same to me. It was more like "I don't really understand Jazz" (laughs).
Then, after watching DJ Shadow and Cut Chemist play, I started listening to music with little drum breaks, and while being influenced by Hip Hop, I learned about underground Jazz during the Civil Rights Movement, and got hooked on Jazz around that time.
MP – Did you start to play Jazz in your DJ performances?
HO – When the event "CHAMP" started in THE ROOM (night club in Tokyo), I had to make the audience dance as a club event at first, so I mixed Jazz little by little while playing Hip Hop and club taste Bossa Nova. At that time, I often played early in the day, so I was somewhat experimental in my song selection.
MP – In an old article about records, it was written that "I don't play so many danceable song". Is it the same now?
HO – In the club, I am aware of the need to make people dance. I didn't rarely play in the main time, so I didn't focus on making people dance, but now I do try to keep the atmosphere danceable while playing the songs I like.
MP – You don't necessarily have to be skillful, but when it comes to DJing, you need some EQ and mixing skills. How do you think about that when you play?
HO – Of course I'm aware of it, but as venues where I played changed, I've gradually loosened up on it in my DJing. I sometimes break it up, and intentionally shift the rhythm because I've come to understand things like polyrhythms.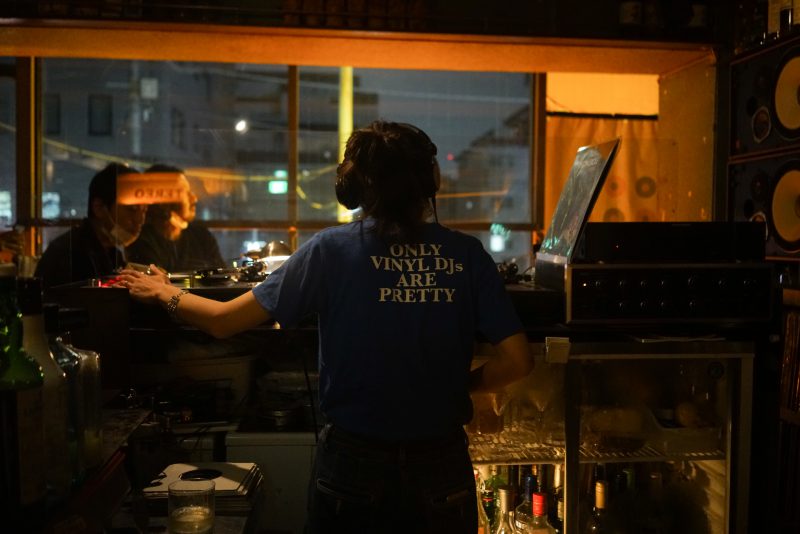 MP – Are you particular about playing vinyl, like the message on the T-shirt you are wearing today?
HO – My environment has had a big influence on me when it comes to vinyl. I always think that vinyl is the way to listen to music, and if you want to listen to music properly, it should be vinyl.
However, after the price of records skyrocketed due to the rare groove boom, I began to question the DJ style of collecting and playing expensive rare records. Under such circumstances, I realized that there was good music that I had not noticed before, and I started paying attention to new songs that had been released on CD since the 90's, as well as the contemporary Jazz scene in Japan, and releasing compilations of songs by new people. Then, I often dealt with songs in data format, so I used CDJ to play songs that were not released on record.
I've been playing more and more at places like Brooklyn Parlor (run by Blue Note Japan) where various audiences come to listen to music (not for dance), and before and after Jazz live performances, so I selected songs from digital data as well as vinyls to fit the atmosphere.
Later, I realized quality of sound in my records like "there was such a sound!" because a friend who is record collector and started to build DJ mixer influenced me, and the number of places where I can play with high quality sound has increased. I also had the opportunity to get to know famous people who were familiar with Jazz. And I began to notice sounds that I couldn't hear with the speakers in night clubs. I was shocked to learn that I didn't know the sound of the records I had spent tens of thousands of yen to buy (laughs).
After that, as I got acquainted with people who are familiar with audio equipment, I improved the sound system in my house and became more particular about cartridges.
MP – You were changing cartridges while playing at Bar Stereo (Tokyo) earlier, were you changing them for the sound pressure of the music?
HO – It's an amazing world of people who are obsessed with cartridges. They are customizing the screws and leads, and covering the outside of the cartridge with a wooden material. There is a person who are pursuing this from a DJ perspective, so I heard their efforts and use their customized cartridges in my DJing.
In the first half of the play, I used a combination of an oval shape needle and a wooden cartridge to create a slightly smoother sound. In the second half, I wanted a sound with a little punch, so I changed it to a combination of (SHURE) N44-7 and a customized cartridge.
The other day, an audio critic came to my house as part of an interview to see how the sound would change after adjusting the (Technics) SL-1200, and I found that the sound really changes when it's set up properly. However, if that's all I do, I end up being self-satisfied, so I'm still searching for ways to share the enjoyment of such "good sound".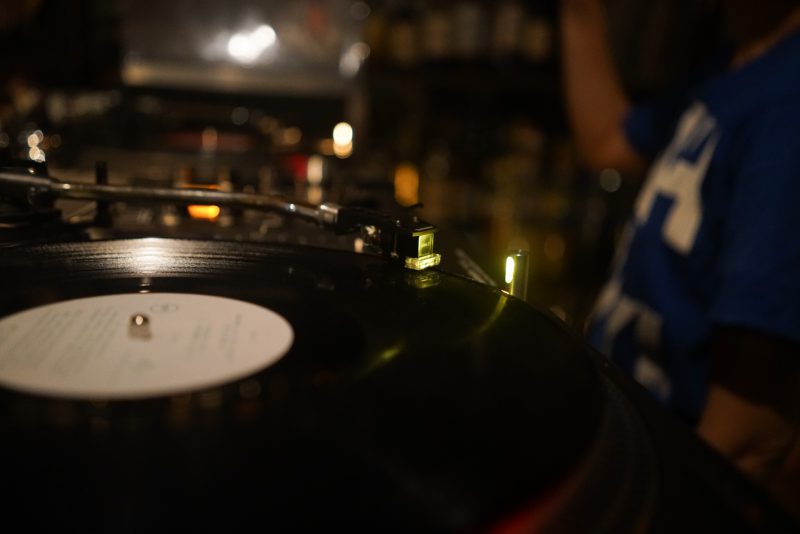 MP – I've been DJing with vinyl for a long time, and I understand the advantages of vinyl, but even so, most people nowadays listen to music digitally. Whether it's music or food, really good things take time and effort, and those who know this will actually visit the place or take the time and effort themselves, but I think most people today, fortunately or unfortunately, don't have such experiences.
It's a pity that people don't know what's really good, but on the other hand, in the case of music, there is the advantage of being able to listen to new songs one after another digitally and online. What do you feel about the balance between digital and analog?
HO – When I can play records, I definitely use records, but my basic idea is to share good music, so I am not afraid of expressing and playing it digitally if necessary.
However, if I express what I'm doing only in digital format, it will quickly go away, so I would like to share the good music I have collected by attaching words, such as text or voice, to it.
Subscription services are very convenient, but even if it's a good song, it's hard to stay in listener's feelings. So I would like music fans to take their time to enjoy the depth of each song, and know that the goodness of a song changes completely depending on the listening order. I want to do more than just arrange songs in a playlist, and try to enlighten people about such enjoyment.
MP – Your title is recognized as a "Jazz DJ" in music scene. How much music do you think Jazz covers? I was surprised to listen to your past mix CD. In between the Jazz songs, you mixed other genre tracks like "The Number Song by DJ Shadow" and "Praise Due by J.Tredz".
HO – "Jazz" (in the public's impression) is something that came later, and as a DJ, I don't stick to "Jazz" only. I've played songs like Shadow and J.Tredz at club events in the past, so I introduce them as my favorite "good songs".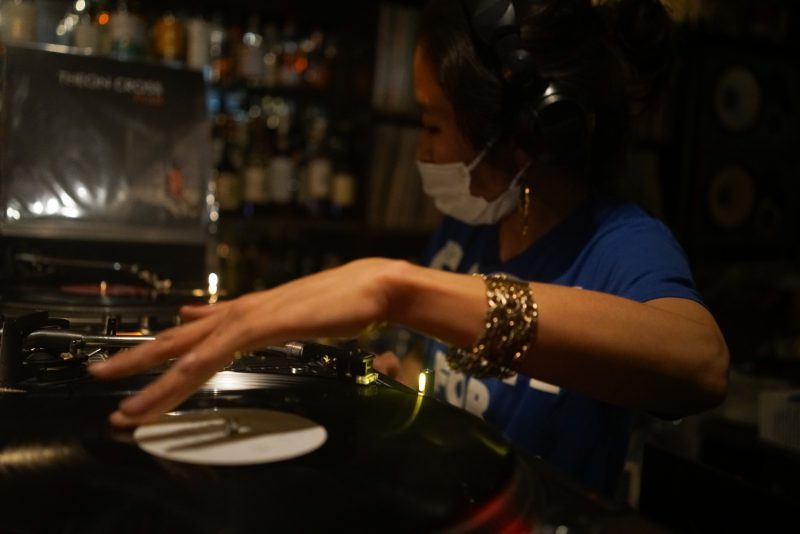 MP – In the context of "Jazz", there are a lot of beat makers who sample Jazz in Lo-fi music. Are you aware of Lo-fi music as a category of Jazz or Hip Hop music?
HO – From the perspective of Hip Hop and other music I have listened to so far, I have listened to Lo-fi music as well, but I haven't covered enough of the current Lo-fi music, so I would rather cover those scenes myself.
MP – If you were to make a sampling based beat like Lo-fi Hip Hop, is there a song you want to use?
HO – I haven't really thought about it that much, but sometimes I think that it would be interesting to make a track by looping sound like the intro part from a song of "Art Ensemble of Chicago". I'm trying to re-edit and remix, but now I have a greater desire to "find good music" than to make a track.
MP – Currently, due to the influence of COVID-19, many famous DJs show their DJ performances online "for free," but even if someday COVID-19 is over and offline events are possible, I think it will be difficult to pay for what was once free. I believe that people who go out of their way to the store will continue to pay to visit, but today's young people tend to think that they can listen to music for free on YouTube, etc., so the time has come to reconsider the way music should be provided.
Under such circumstances, is there anything that you are conscious of when it comes to DJing in the future?
HO – It's true that the way music is digitally and online is changing, but as I mentioned earlier, I myself basically "want to introduce good music", so while utilizing digital media, I would like to continue to challenge myself to do things that cannot be expressed only digitally.
PROFILE
From Jazz to Soul, Jazz Funk, Hip Hop, and experimental music, her high-quality song selection and mix have been highly evaluated at both domestic and international events, and she has been active in various venues as DJ for over 20 years. She appeared as the first DJ at Asia's largest jazz festival "Tokyo Jazz", and showed her talent at big events such as "FUJI ROCK FESTIVAL" and "Blue Note JAZZ FESTIVAL in JAPAN". Due to her obsession with vinyl and deep knowledge of Jazz, she has a close relationship with well-established Jazz cafes, live houses, and Jazz critics, and was featured by Jazz-related media and a turntable maker Technics. Her own label, "Key of Life +" has released compilation albums and label's artist "RM Jazz Legacy." On MIXCLOUD Jazz program "K.O.L. RADIO" is boradcasted with Mr. OK Jazz. She is in charge of music programs on the online radio station "WAH! Radio".